Thank You Jim Bartholomew!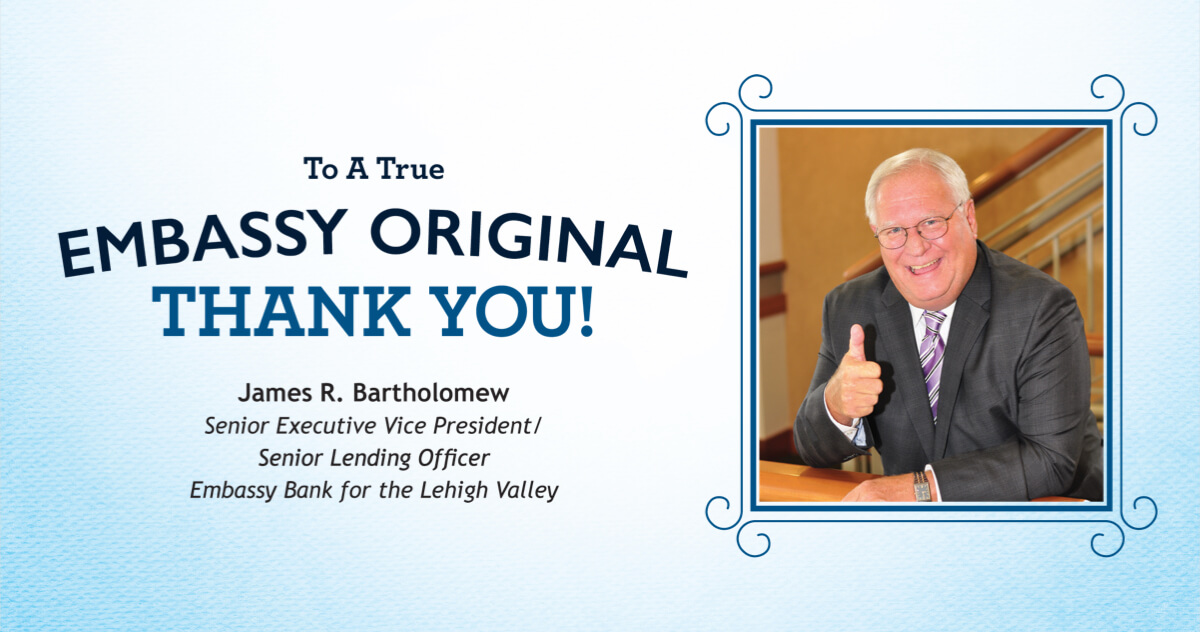 Jim Bartholomew is a member of the original team that started Embassy Bank for the Lehigh Valley back in 2001.
As a career commercial loan executive with well-established financial institutions, Jim's decision to join the unknown startup was not without risks. Embassy's beginnings were beyond humble. Ideals outweighed assets. Even our first office was a mobile trailer affectionately known as the "bank in a box."
Just like our founding Team and Board members, Jim believed in the vision for a different kind of bank. One dedicated exclusively to serving the families and businesses of Lehigh and Northampton counties. A bank structured from the ground up to deliver unmatched customer service, lower fees and higher value. A true community banking partner for the Lehigh Valley, built to stay steadfastly focused on its original mission and hometown roots...long after others have moved on.
21 years later, Embassy is the largest Lehigh Valley-based community bank with more than $1.6 billion in asset strength,10 convenient office locations and a robust 24/7 online banking presence.
This growth is attributable to the local consumers and commercial business owners who have experienced the value of our vision. And, Embassy Bank's incredible people—exemplified by Jim Bartholomew— who have delivered on our promise of performance every working day.
In the years prior to his retirement, Jim focused on a capstone achievement to his remarkable career. That was to build the most responsive and empowered business banking team in the Lehigh Valley. And he succeeded in that as well... a fitting legacy of leadership to a true Embassy Original. Thank you, Jim!
On behalf of the entire Embassy Family, our heartfelt gratitude and congratulations to our colleague and beloved friend, Jim Bartholomew. Thank you!
Back to News